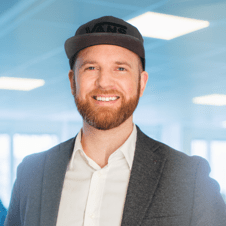 Richard Furberg
Engineering Manager – Tech
Hej! 👋

I'm Richard. Father of three kids, a handful of ongoing coding projects and a bathroom renovation that probably never ever will finish. Seriously, anyone know a good carpenter? 👀

I strongly believe that your working place should be set up in a way that you can manage your work-life balance as seamless as possible. This is more or less our mantra here at SeenThis, and that is one of the things that made me fall in love with the place!

My main focus here is building and managing our tech team, but also creating and maintaining a strong, open and creative culture throughout the rapid expansion we are heading towards. The goal has always been to create a tech department and teams where I would love to work my self!

If you have any questions, or are interested in knowing more about any of the job opportunities, don't hesitate to reach out to me!
My blog posts
Sthlm.js x SeenThis

We had a fantastic time running the tech meetup sthlm.js for Javascript developers in Stockholm....